| | | |
| --- | --- | --- |
| | Products | |
Tel:+86-757-85108737
Fax:+86-757-85108736
E-mail:
olisar@163.com
Engineering decoration:
Mr Chen 13590539689
Home improvement:
Miss Chen 15918118785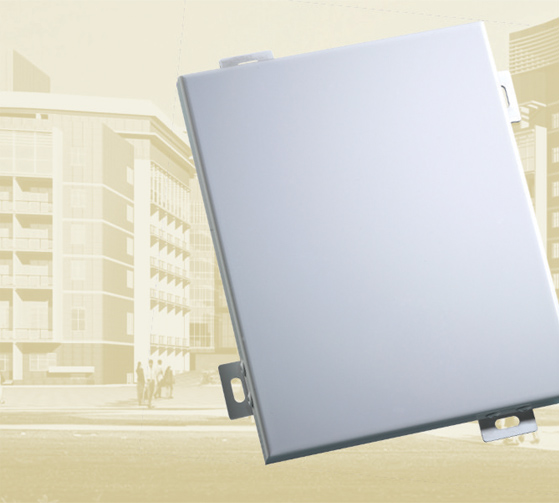 Alunimun curtain wall veneer series is the best way to show the cast-hui's experience and expertise to create products, professional design team, professional production team, the services team for the eernal Hui east aluminum curtain wall veneer products escorting create elegant noble, fashion and durable first-class products. Suitable for different architectural style of the modeling system can best express the concept of modern space for different height, different environments, different structure of indoor and outdoor decoration of buildings provide a rich choice of space.
INTRODUCTION TO THE PRODUCT

The single-board for aluminum curtain wall, made of high-quality and high-strength A-alloy sheet, has the common thickness of 2.0、2.5 and 3.0 mm, model as 3003 and status as H24(H44 after coating). The regular material has the maximum size as 1220mX2440m, amd is mainly composed of face plate, reinforcing rib and angle support, The angle support may be directly molded by bending or pressing the face plate, The reinforcing rib forms a firm integral by connecting with welding screw on the back of the plate, greatly enhancing the strength and rigidity of the single-board for aluminum curtain wall, and guaranteeing the smoothness and windproof and anti-quake ability in long term use. If sound and heat insulation is required, assemble the high-efficient sound and heat insulation material on the inner side of the aluminum board.

PRODUCT CHARACTERISTIC

The single-board for aluminum curtain wall has the characteristics of light weight. High strength, watertight, dirt resistance, fire resistance, corrosion resistance, fine processing performance, Now maintenance cost, and long service life, The single-board for aluminum curtain wall can be processed into arc or shaped product, with different colors coated on the surface, creating various beautiful patterns on the wall. It can also form different appearances and shapes by combing with the glass curtain wall, making the building more noble and elegant.

SCOPE OF THE APPLICATION

The single-board for aluminum curtain wall is applicable for decorating the interior and exterior walls of all kinds of buildings, lobbies, pillars, viaducts, overhead walkways, elevators, balconies, signboards and indoor shaped ceilings.
Aluminium curtain wall produce art craft process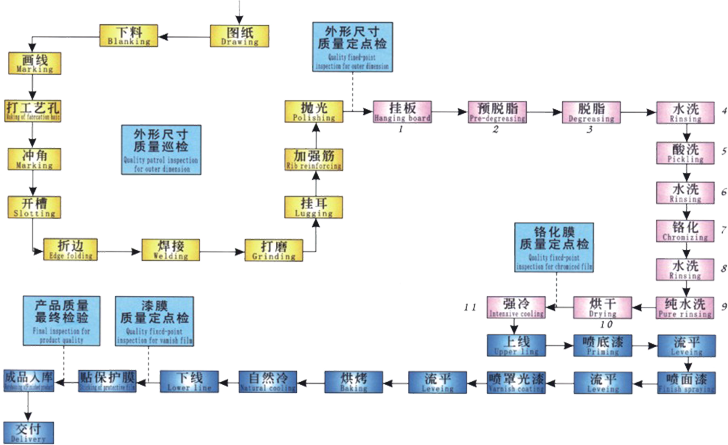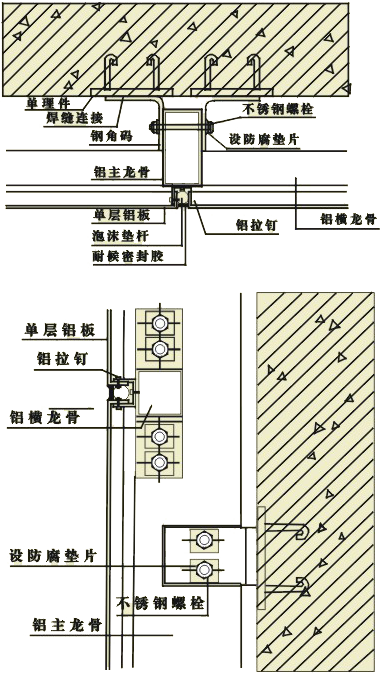 Performance test
Obiaotop single-layer aluminum curtain wall is made of the A-alloy face plate as the backingpainted with prime and colorful finish after pretreatment, and sprayed with the carton fluoride on the surface.
Structural Diagram of single-layer Aluminum plate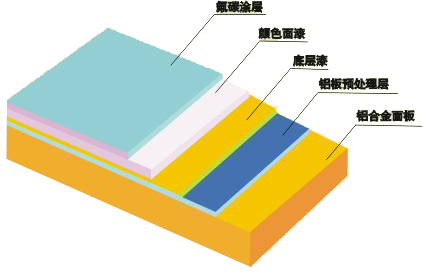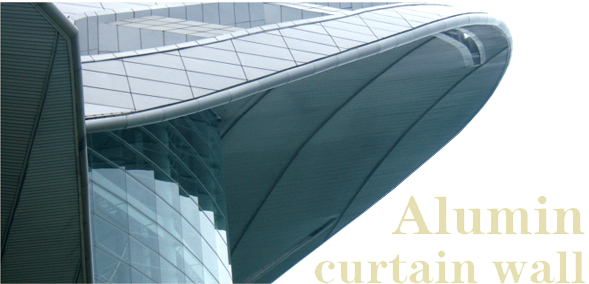 The spraying pcrformance of carbon fluoride shall be executed as per the following table
Testing item
Test content
Technical requirements
Geometric dimensions
Long, wide scale
<2000mm,Allowable deviation±l.0mm
>2000mm,Allowable deviation±1.5mm
Diagonal
<2000mm,Allowable deviation±3.0mm
>2000mm,Allowable deviation±3.0mm
Flatness
Allowable deviation
Dry film average thickness
2-coat>30um,3-coat >40um,4-coat >55um
Testing item
Test content
Technical requirements
Fluorocarbon coating
Color
Visual inspection with no obvious color or monochrome paint in computer color testing E<2NBS
Gloss
Limits of error <±5
Pencil hardness
>±1H
Dry adhesion
Frame method,100/100,Grade 0
Resistance to impact (positive impact)
50kgf .cm(490N.cm),No crack no paint
Testing item
Test content
Technical requirements
Fluorocarbon coating
Chemical resistance
Hydrochloric acid
15 minutes drip, no bubbles
Hydrochloric acid
Color change E<5NBS △
Resistant mortar
24 hours without any change
Hydrochloric acid
72 hours no bubbles, no drop
Corrosion resistance
Moisture resistance
4000 hours, up GB1740 level two or above
Resistant salt spray
4000 hours, up GB1740 level two or above
Weather resistance
Fade
After 10 years,E<5NBS △
Powder
After 10 years,GB1766 Class A
Gloss retention
After 10 years,Retention>50%
Thickness loss
After 10 years,Thickness loss rate<10%